22 min to read.
What are NFT Coins
What are nft coins? What is nft coin price? What is the best nft coins? What nft coins are on coinbase and binance?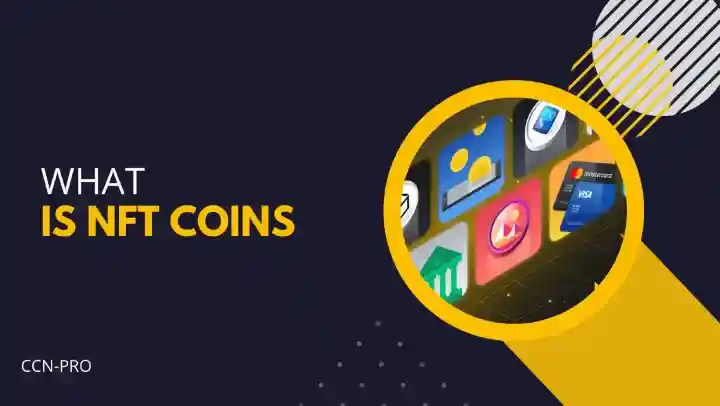 Table of Content
NFT Coins: List of all NFT Coins & NFT Tokens
NFT Coins are used to support NFT's ecosystems. The play-to-earn economy is maintained with the use of AXS, the native token of the NFT blockchain game Axie Infinity. As a result, AXS is the NFT coin of Axie Infinity. Decentralized applications such as SLP, AXS, and SAND are supported by NFT coins that provide a variety of functions, ranging from in-game currency to rights to influence future development. It is possible to purchase NFT Coins, just as with any other cryptocurrency.
It is the fungibility that distinguishes NFT Coins from NFTs. In contrast to NFTs, NFT Coins are fungible, meaning that they can be traded or exchanged for other NFT Coins of the same value. NFT Coins, as mentioned earlier, are the token currencies that drive NFT projects' economies. We will examine some of the best NFT coins in this article.
There are several important questions that should be clarified in this article, including: with which NFT coins can investors benefit from the NFT boom? Which NFT coins are recommended and should be included in every investor's portfolio. The article also discusses how easy it is to invest in NFT coins through online brokers.
List of the best NFT coins
Decentraland (MANA)
The Sandbox (SAND)
Axie Infinity (AXS)
Gala Games (GALA)
Enjin (ENJ)
Chiliz (CHZ)
Wax (WAXP)
Chromia (CHR)
What are NFT Coins?
It has already been mentioned that NFT coins differ from NFTs. Non-fungible tokens (NFTs) are cryptographic assets on blockchains with unique identification codes and metadata that differentiate them from one another. The value of these coins cannot be equalized, unlike that of NFT coins. In comparison with NFTs and NFT coins, this is the most significant difference. It is possible to use identical NFT coins for commercial transactions since they are identical.
There is no doubt that NFT Coins are not only a medium of exchange, but also serve as staking rewards, as in-game currency, and have great utility in the metaverses of NFT projects. Axie Infinity, for example, is an example of an NFT coin. As part of its play-to-earn economy, AXIE Infinity uses the AXS NFT coin. It is for this reason that NFT coins can be traded in the same manner as other cryptocurrencies.
The best NFT coins
If you are interested in taking advantage of the rise of NFT stocks, here are the best NFT stocks to invest in. A number of these stocks have growth initiatives related to NFTs or have benefited from this growing market in a significant way.
Decentraland (MANA)

Decentraland is a virtual reality real estate platform that enables users to create, experience and monetize content and applications.
Players can use mana to buy LAND NFTs and other digital assets in Decentraland.

In addition, Decentraland developers can use mana to incentivize virtual structures, experiences, theme parks, and other facilities. Mana Tokens can also be used to pay for a range of avatars, wearables, names and more on the Decentraland Marketplace.

The Sandbox (SAND)

Sand is the primary utility token and medium of exchange in The Sandbox Ecosystem, allowing users to monetize their gaming experiences. NTF Coin Sand can be collected through free play, and then spent on paid games, equipment, or avatar customization.

As well as purchasing LAND, developers can also upload assets to The Sandbox Marketplace using sand. Besides participating in governance decisions, Sand owners are able to earn rewards by using Sand Tokens.

Axie Infinity (AXS)

The game Axie Infinity uses blockchain technology to represent its trades and fights through Axies, the NFT characters that appear in the game. In the Axie universe, AXS serves as the native governance token. It is possible for holders of AXS tokens to receive rewards when they participate in gaming activities or vote on important governance matters. On the Axie NFT marketplace, AXS is also accepted as a currency.

Gala Games (GALA)

There are a variety of blockchain games available on Gala Games , a player-owned blockchain gaming platform.GALA is the native NTF token of Gala Games. Players holding Gala NFT Coins can influence the governance of games within the Gala Games ecosystem. The GALA Token is also used to purchase items, upgrades and other in-game assets.

Enjin (ENJ)

As part of the Enjin Coin project, Enjin, a company that provides blockchain gaming products, aims to allow anyone to develop and monetize products using blockchain technology. Enj is a digital store of value that adds real-world liquidity to in-game assets, such as NFTs.

Chiliz (CHZ)

Chiliz is an NFT coin created in 2018 for the purposes of sports and entertainment. A digital currency such as this is used for the purchase of fan tokens and payment on Socios.com. Fans can use these utility tokens to purchase VIP rewards, participate in voting polls, access AR-enabled features, forums, and exclusive promotions. Additionally, users can participate in global leaderboards. In terms of the number of users, Socios.com is the largest non-exchange blockchain application in the world.

The CHZ cryptocurrency is also listed on Coinbase and Binance, two of the world's leading cryptocurrency exchanges. Sports fans from around the world use CHZ NFT Coins to support their favorite teams. There are a number of renowned sports organizations that Chiliz has partnered with around the world. A limited number of fan tokens are available to each sports organization using Chiliz technology, referred to as Fan Token Offerings. The Chiliz technology will allow each sports organization to offer a limited number of fan tokens during their initial Fan Token Offering (FTO).

Wax (WAXP)

Wax's primary token is WAXP. A purpose-built NFT blockchain is Wax (Worldwide Asset eXchange Ecosystem). In other words, Wax provides blockchain-based tools for brands to create a collection of NFTs. These tools include marketplaces, dApps, exchanges, and games. In terms of digital entertainment and gaming, Wax is a decentralized network that allows you to create, store, buy, and sell NFTs. It is explicitly stated that Wax is a carbon-neutral blockchain.

Chromia (CHR)

A total of one billion CHR NFT tokens were generated when the Chromia platform was launched, and as far as Chromia is concerned, no more tokens will be issued in the future. In Chromia, the CHR token is used as a medium of exchange between developers, users, and investors.

Several of the major cryptocurrency exchanges also list CHR. CHR is used on the Chromia platform for staking and for payment of hosting fees. Chromia is a decentralized public blockchain aimed at the gaming and social networking sectors.
How to buy NFT Coins?
The NFT coins can also be purchased easily from Crypto.com, since the company has its own NFT marketplace, in addition to selling NFT coins. The following guide provides instructions on how to purchase NFT Coins from Crypto.com.
How to buy bitcoin
Estimated Total Time
5 min
Tool: A cryptocurrency market.

In order to use Crypto.com, you must first register. Here you have to enter the usual personal data , such as name, date of birth and e-mail address. However, in order to be able to fully use Crypto.com , new customers must carry out a verification with this provider and confirm their identity . A valid ID document is required for verification.
Step 2: Deposit at Crypto.com

You may make a deposit at Crypto.com after successfully registering and verifying your account. To do this, you must first navigate to "Accounts" and click on " Fiat Wallet ". In the "Fiat Wallet" menu item, you then have to click on the " Setup New Currency " button. By clicking on " Set Up ", you will be able to view the account details for your own Crypto.com account. You must now transfer the desired amount to this account by bank transfer. The option of paying by credit card is also available.
Step 3: Buy NFT Coins at Crypto.com

You may begin purchasing NFT coins once your deposit has been successfully completed. When you log into Crypto.com, you can view a large number of cryptocurrencies, including NFT Coin, by clicking on " See All ". There should be an indication of all tradable cryptocurrencies offered by the provider. In the search window, find and click on the NFT coin that you are interested in. You will then be given the opportunity to purchase the NFT Coin through a purchase window.
Tips for investing in NFT Coins
Investing in NFT Coins is only recommended for investors who are willing to take risks, as NFT Coins have some inherent risks. These NFT Coin tips will help you succeed when investing in NFT Coins:
Broker for NFT Coins

NFT Coins should be purchased through a reputable broker. Investors should only invest in NFT Coins with a licensed and regulated provider. A demo account, if available, is a good way to familiarize yourself with all the broker's features before making your first money transfer.

Diversification

NFT coins are relatively volatile and high-risk investments, so it is prudent to diversify sufficiently to reduce risk. Additionally, investing in a single technology (NFTs) is always risky given the volatile nature of NFT coins. It is possible to significantly reduce this risk by diversifying sufficiently. It is therefore recommended that you diversify your own crypto portfolio to the greatest extent possible. In order to protect your investment from industry-specific risks, you should invest in a number of different projects.

Investment Fees

There are some crypto brokers that charge very high fees for buying and selling NFT Coins. As a result of these fees, the ultimate return on investment is reduced.High fees can quickly erode all profits, especially when investing small amounts.

The right investment strategy

Before investing in NFT Coins, each investor should develop their own investment strategy. Historically, long-term investing in stocks, ETFs, crypto currencies, NFTs, and NFT coins has produced the greatest returns. When investing in NFT coins, it is important to be clear about the time horizon and expected returns regardless of the investment strategy you choose.

Many brokers allow investors to lock in book profits by regularly adjusting the "stop loss". This is a popular trading strategy, especially for day traders. On the other hand, long-term investors may wish to hold NFT Coins even during market corrections, since corrections in assets such as NFT Coins are perfectly normal, and long-term investors should not be deterred by short-term market corrections. If you intend to use a buy and hold strategy for NFT coins, it is crucial that you continue to hold these coins during periods of crypto bear markets (if the project is still promising), and perhaps even continue to make investments, since correction periods are often a good time to increase your stake in individual NFT coins.
Top 100 NFT Coins Market Cap
Unsure which NFT coin to invest in? Here is an overview of the most important NFT coins with a market capitalization of at least 400 million US dollars.
| | | |
| --- | --- | --- |
| NFT Coin | symbol | market capitalization |
| Decentraland | MANA | $4.94 billion |
| Theta Network | THETA | $4.03 billion |
| The sandbox | SAND | $3.99 billion |
| Axe Infinity | AXS | $3.96 billion |
| Tezos | XTZ | $3.40 billion |
| Flow | FLOW | $2.52 billion |
| chilli | CHZ | $1.87 billion |
| Gala | GALA | $1.86 billion |
| Enjin Coin | ENJ | $1.53 billion |
| Oasis Network | ROSE | $1.01 billion |
| WAX | WAXP | $694 million |
| Immutable X | IMX | $607 million |
| SushiSwap | SUSHI | $539 million |
| APENFT | NFT | $530 million |
| DigiByte | DGB | $529 million |
| syscoin | SYS | $446 million |
| illuvium | ILV | $419 million |
Different NFT coins
A thorough understanding of the different types of NFT coins should also be undertaken before selecting an NFT coin. Below is a breakdown of the main types of NFT coins:
Art NFT Coins : These NFT Coins focus on NFT Art. Art is the original form of NFTs. For this purpose, digital images are embossed and sold to collectors.
Music NFT Coins : These NFT Coins are a niche of art NFT Coins. Music NFTs can be used to create songs, albums, lyrics and soundbites.
Gaming NFT Coins: The latest development in the NFT world are gaming NFTs. Gaming NFT Coins are often used as in-game currency for the NFT games.
Is an investment in NFT Coins worthwhile?
Investments in NFT coins have proven to be worthwhile in the past and can potentially yield high returns in the future.
There has already been a substantial increase in NFT sales since 2017, and many experts believe that the NFT craze is just getting started. A number of large companies are slowly embracing NFT and using NFT coins to finance or support their NFT projects. As of Q3 2021, NFT trading volume increased by a remarkable 38,000% year-over-year, totaling $10.7 billion.
NFT has experienced exponential growth which shows no signs of slowing down. In context, OpenSea is considered the largest NFT marketplace and recorded a sales volume of approximately 3.4 billion USD in August 2021 alone. As a result, NFT coins have a great deal of potential.
Pros and Cons of NFT Coins
In addition to their advantages, NFT coins also present certain risks. The risk associated with high-risk investments, such as NFT coins, can also result in years of losses or even a total loss. It is ultimately determined by the individual NFT token how strong the advantages and disadvantages are.
A major risk associated with NFT coins is their lack of regulation. As a result, there are many black sheep out there who are simply trying to get money from investors without any intention of actually launching NFT products. NFT coins are also more volatile than traditional assets such as stocks due to the volatility of cryptocurrencies.
One of the advantages of NFT Coins is that they have the potential to generate high returns. The growth rate of many NFT coins is extremely high. IInvestor returns should be greatly enhanced if NFT coins can sustain this growth. Another advantage of current NFT Coins is their first mover advantage, since they are establishing themselves very early in a relatively new field and thus distinguish themselves from their competitors.
Opportunities of NFT Coins
High growth
Opportunity for high returns
First mover advantage
Risks of NFT Coins
Little or no regulation
Riskier than traditional assets
High volatility risk
Alternatives to NFT Coins
It is probably a better option to invest directly in NFTs rather than NFT coins. On the blockchain, NFTs represent ownership of virtual or physical items that can be traded or sold. Several companies, including eBay, Twitter, and Snap, have also announced plans to launch NFT marketplaces.
NFTs are in a state of " hyper growth ", as previously noted. Investing directly in NFTs may be more profitable than investing in NFT coins. Deutsche Bank estimates that the market opportunity for NFTs is enormous, with the total addressable market exceeding $1 trillion.
NFT Coin price and forecast
The NFT movement is a new development and demonstrates the potential of crypto assets. In light of the fact that NFT Coins are still in the early stages of development, there are numerous risks involved. It is therefore important for investors to proceed cautiously and limit their risks as much as possible.
While NFTs are currently in hypergrowth mode, many of them have a very good outlook. It is expected that NFT coins will continue to rise in the future as a result of announcements made by large companies such as Meta Platforms (Facebook). Combined with the advantages of cryptocurrencies and the growth potential of NFTs, NFT Coins are highly promising investment vehicles.
The best marketplaces to buy NFT Coins
The following marketplaces are available to anyone interested in purchasing NFT Coins and NFTs:
Crypto.com

More than 10 million customers use Crypto.com, one of the world's leading cryptocurrency exchanges. In addition to offering crypto trading services, Crypto.com has also launched its own NFT marketplace.

Crypto.com is distinguished by its favorable fee model in particular. Additionally, Crypto.com offers a wide range of additional features. Among the features offered by the platform are NFTs, crypto staking, a DeFi marketplace, crypto earn, and much more. Generally, the platform is very user-friendly and there is an ingenious Crypto.com app for purchasing NFT Coins.

Pros:
Innovative marketplace with many cryptocurrencies and NFT coins
Crypto staking and NFTs are offered
Low fees when buying and selling NFT Coins
No deposit fees
Cons:
The Crypto.com website is only available in English
Coinbase
A well-known cryptocurrency exchange, Coinbase, makes buying NFT Coins as simple as purchasing stock through a regular online brokerage. Coinbase is currently also developing an NFT marketplace , which is still under construction. Coinbase's NFT plans were first announced at the end of 2021 . According to current estimates, more than 600,000 people have already registered for the upcoming NFT marketplace.
Coinbase also has a cooperation with the credit card company MasterCard . Credit cards can also be used to purchase NFTs Coins. The most common criticisms of Coinbase are its relatively poor customer service and sometimes high fees.
Pros:
Large user base
Many cryptocurrencies on offer
Allows the purchase of NFT Coins via MasterCard
Cons:
Lack of customer service
Relatively high fees
Binance
NFT coins can be traded and exchanged on Binance, a classic crypto exchange. Binance is considered to be the largest crypto exchange in the world as of 2018.
There are currently more than 170 cryptocurrencies available on Binance. When it comes to fees, Binance is very competitive when it comes to owning its own cryptocurrency Binance Coin, as well as when it comes to security, since Binance is fully licensed.
OpenSea
We have made an exception for OpenSea. In spite of the fact that NFT coins cannot be purchased and sold on OpeanSea, OpenSear is the world's leading NFT marketplace by a wide margin.
The OpenSea marketplace offers a wide variety of NFTs, including digital art, audio files, videos, in-game items, and virtual properties. The OceanSea platform does not require a user account with an email address. Instead, you can connect using a Web3 and NFT compatible decentralized wallets such as MetaMask. Approximately 88% of all NFT transactions take place at OpenSea.
NFT Coins FAQs
Which coins are NFT?
Currently, Decentraland (MANA), Theta Network (THETA), The Sandbox (SAND) and Axie Infinity (AXS) are the best known and largest NFT coins. Cryptocurrency exchanges offer these products for sale.
How do I get NFT Coins?
It is possible for anyone to invest in NFT Coins. A crypto exchange can be used to purchase NFT coins, just as it can with other cryptocurrencies.
Which NFT Coin should I buy?
There are currently a number of promising NFT coins and NFT projects in development. It is recommended that you use MANA and SAND as NFT coins.
What types of NFTs are there?
Art NFT coins, Music NFT coins, and Gaming NFT coins are the most popular types of NFTs.
What is the difference between NFTs and NFT Coins?
Fungibility is the main difference between NFT Coins and NFTs. Tokens are non-fungible, while coins are fungible, meaning they can be traded or exchanged for another coin of the same value. NFT Coins power the economy of NFT projects as previously mentioned.